Shotgun Sports Open House
Last years shotgun open house was such a good time we have scheduled another one for this year. On Sunday, April 30, WCFW will host an open house from 9am to 3pm for all four shotgun sports we have at the Club. Members will be able to try each discipline for FREE. Yes, you read that right, FREE TARGETS!  Try one, several, or all four. We will also have ammo for sale if you are in need. Dig out that lonely shotgun that's been sitting in the back of the safe for too long and take advantage of the excellent shotgun facilities we're fortunate to have.  It will be a fun time for everyone to come out and enjoy these exciting disciplines. Although this is planed for members only members are allowed to bring guests.
Upon arrival please register at the club house!
       

One free round

of Skeet (25 clays)
       

One free round

of Trap (25 clays)
       

One free round

of 5 Stand (25 clays)
       

One free half round

of Sporting Clays (50 clays)
       Food truck on site for purchase of breakfast and lunch
       12ga and 20ga ammo will be available for sale $10/box

       Basic instruction and coaching will be provided for those new to each sport
       A limited number of loaner shotguns will be available if you do not have one
       Additional clays may be purchased at the normal rate
        Come Join us on April 30th!
Munchie Machine Food Truck
 Will be onsite from 9am to 3pm serving both breakfast and lunch.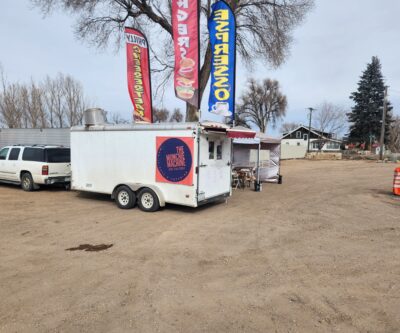 *** BREAKFAST MENU ***
Pancake Plate - 2 Bacon slices + 2 - 3" Pancakes = $5.00
( Syrup & Butter available )
Breakfast Burrito's - Egg, cheese, sausage, Chorizo, & potatoes with choice of Mild, ½ & ½, or Hot Green Chile = $7.50
*** LUNCH MENU ***
4 " Philly Cheese Steak Sandwich = $7.00
4" Philly Cheese Steak Sandwich w/Choice of  Fries, Cole Slaw, or Potato Salad = $11.00
Hamburger with or with out cheese, With Fries = $10.00
Bacon Chicken Wrap = $9.00
100% Beef Corn Dog = $5.00
*** DRINKS ***
Ice Tea = $2.00,  Pop = $1.00,  Other specialty drinks – just ask!